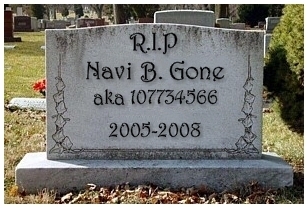 A dead GPS exhibits the following characteristics:


It can't be turned on by the On/Off Power switch, DC car charger, AC wall charger or USB connection.

No illumination of the LCD display.

No Sound.

Not recognized by your computer when plugged into your PC's USB port.

Pressing the reset button has no effect.

Unfortunately, when the above symptoms have occurred, your GPS has died and hopefully has "gone to a better place".

Try Resetting Your Unit

The first thing to try with a dead GPS is resetting the GPS. There can be times when the GPS has locked up and will not power on. In these cases, the internal microprocessor needs to be reset. The procedure for resetting a GPS can be found [HERE]. Hopefully resetting the device will allow it to fucntion normally again.

What Causes a Dead GPS?

There can be several factors which may cause a GPS to no longer function.

1. Use of a non-OEM mini-USB charger. Not all mini-USB plugs are wired the same. Don't use a charger that was originally intended for use with another device.

2. Overvoltage Condition. Most units are designed to operate on +5VDC or +3.7VDC battery power. Don't try to power the unit directly with +12VDC. You WILL damage the unit. A defective charger can damage a GPS.

3. Static Electricity or transient voltage damage. The human body can build up a static electricity of up to 12,000 volts, just by walking across a rug. The voltage is of extremely low current and non-threatening to human life but can damage suceptible electronic components.

4. Check to see if the mini-USB charging jack is loose or broken. A defective or broken jack will prevent the unit from charging the battery or being powered by an external power source such as a DC car charger or AC wall charger.

5. Premature component failure. There's not much you can do to prevent this type of failure.

Due to use of surface mount components, it's pretty tough to determine what part has failed and it's also very difficult to obtain replacement parts and then replace them. Some of these parts are smaller than the size of a pin-head and have many solder connections. These parts were meant to be installed by a machine, not a human.

Our suggestion is that you have (3) options:


Buy another GPS unit (costly option).

Send it back to the manufacturer and have it replaced with a refurbished unit (almost as expensive as a new unit).

Have the main board replaced (cheapest option).

Main Board Replacement

Replacing the main board is the quickest way to resolve this problem. Since your old GPS is dead, there is no way to retrieve any data from it. We won't be able to transfer your map(s), favorites, POI's or Waypoints from the old board to the new board.

If you decide to go this route, please send your GPS as well as any charger(s) you have used with your GPS as it is possible that the charger could be defective and could be the cause of your dead GPS. Please click [HERE] to see our repair price list.



*** NOTICE ***

WE DO NOT OFFER MAP UPGRADES! - YOU MUST PURCHASE A MAP UPGRADE FROM THE MANUFACTURER!



WARNING!!! Taking your GPS apart requires the right tools. There are internal flex ribbon cables for the antenna, touch screen and LCD screen. These cables are very delicate and can be torn easily if you're not careful. The antenna flex ribbon cable runs through the swivel antena shaft and is very delicate. In addition, these devices contain components that are sensitive to static discharges and can be damaged without using the proper grounding techniques. Please do not attempt to make this repair yourself unless your are qualified to do so. We have received numerous emails from people who have gouged and cracked their GPS case and permanently damaged their GPS LCD screen and antenna! Save yourself the aggravation and possible damage to your GPS by allowing us to repair your GPS for you.

So, if you have a problem with your GPS, Please feel free to fill out a Repair Request/Quote Form, which is located at the bottom of the left-hand menu. We'll be more than happy to discuss your GPS problem with you and attempt to offer a possible solution to have the problem resolved.