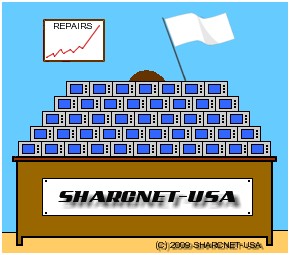 Please review our Price List & Product List [HERE] before submitting a quote request.
We do not repair all brands and models. We do not sell parts - no exceptions. We are a repair facility only.
We do not work on units that have been opened and/or tampered with or are missing serial tags.

Yes, we're still here and we're still in business! However, due to the large volume of incoming repairs, we will not be able to accept any additional units for repair or be able to answer your GPS/Camera questions until our repair schedule has been cleared. If your unit is already at our center or in transit to us, please be assured that it will be repaired and returned as usual and without delay.

Why is our repair schedule full? It's because SHARCNET-USA has an outstanding reputation for quality work, low prices and fast service. That makes us #1 with our customers! Read why our repair services are better than the factory. Click [HERE]
SHARCNET-USA provides GPS repair services for Police/Fire Departments, Paramedics, Private Investigators, TV News Vehicles, Utility Companies, Car Rental Agencies, Trucking Companies as well as individual use.

Please check back with us again later to submit your quote request. All repairs are performed in the order that they are received. Please make sure that you submit your quote request as soon as possible, once we are accepting repairs again. Our repair schedule fills up very quickly. Please only submit a quote request form if you are seriously considering having us repair your unit.

We are sorry for the inconvenience and we appreciate your business! We typically will receive a week's worth of work in just one day! Please see this link for addition assistance information: Assistance Guidleines

Notice: Once you have submitted a quote request, please make sure you check your SPAM folder. For some reason, Yahoo is sending our quotes to the user's Yahoo SPAM folder. Please check your SPAM folder before resubmitting a quote request or inquirying as to why we haven't responded. Please also make sure that your email address is correct and valid. We have had many quotes bounce back due to invalid email addresses.

Note: Due to the amount of business that we perform, we are unable to give daily status updates on repairs. We will contact you via email when we receive your unit; when it's repaired and ready to be shipped back to you. We will provide all tracking information at that time. Repair status requests via email or AIM instant Messenger will only slow down the repair process of your unit and others.

We do not perform repairs on warrantied units (unless the manufacturer declines to repair), units that have been immersed or exposed to liquids, units purchased through pawn shops or Police auctions, units with missing serial tags or locked with an unknown PIN and/or units that have been opened and/or tampered with by the customer, as additional damage unknowingly, may have occurred, which may affect the accuracy of our quote. In some cases, the unit may have been damaged beyond repair. Units received meeting this criteria will be returned to the owner at the owner's expense.

Due to liability issues, we can not provide DYI (do-it-yourself) repair information or replacement parts. Please click [HERE] for more information. We do not have schematics/diagrams on any product that we service. Due to local ordinances, we are unable to provide local drop-off / pick-up or repair-while-you-wait-service. No Dealers, Repair Centers, Service Technicians, Patent Attorneys, Partnership Offers, Website Ranking Companies or Resumes please.

Notice to Earthink Users with SPAM Block Enabled: We will not be able to respond to Earthlink users who have SPAM block enabled. This is a result of our email responses being blocked. If you have an Earthlink email account, we ask that you provide us with another email account (Yahoo, Gmail, etc). Sorry but we just spend too much time trying to get through to the customer, often to no avail.

Thank you for considering SHARCNET-USA as your service resource.