Read why our repair services are better than the factory. Click [HERE]
Confused between repair vs. refurbished? To learn more, click [HERE]
Thank you for considering SHARCNET-USA as a resource to repair your GPS. We strive to make sure that your device is repaired right the first time and that your experience with us is a pleasant and positive one.

We also understand how important your unit is to you and that you want to have it repaired and returned to you as quickly as possible.

When you send your unit to us for repair, your name, address and telephone number is entered into our computer repair database along with your unit's serial number, nature of the problem and appropriate action required and taken to correctly repair your unit.

We want you to feel confident about sending your unit to us for repair.

Our repairs, are warranted against defects in material or workmanship for ninety (90) days from the date of shipment from SHARCNET-USA. This warranty does not cover normal wear and tear and shall be null and void if your device is modified, improperly installed or used, damaged by accident or neglect, or in the event any parts are improperly installed or replaced by the user. This includes accidental damage to replacement LCD screens and/or cases.

The warranty also does not cover any failures of the device as a result of subsequent failed firmware upgrades or map upgrades performed by the user during the warranty period. If SHARCNET-USA determines that your device has been returned for warranty service and is found not to be defective as herein defined, the BUYER shall pay all costs of handling and transportation.

Important! Please note that once your unit is repaired, we will apply a .75" x .25" serialized SHARCNET-USA tamper-proof holographic seal on your unit in an inconspicuous location. Please be aware that removing or cutting this label will void the 90-day warranty on the repair of your unit.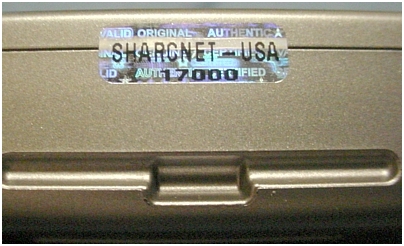 SHARCNET-USA's sole obligation under this warranty shall be to furnish parts and labor for the repair or replacement of parts found to be defective in material or workmanship during the warranty period.

As a condition of this warranty, the user must:


Obtain a SHARCNET-USA Return Material Authorization (RMA) Number for your device.


Ship your device, transportation prepaid, to SHARCNET-USA.


Include with the product, a written description of the claimed defect.

All returns shall be properly packaged. In the event the return is packaged improperly or if shipping damage is evident, it will not be accepted for service under warranty. Surface transportation charges for the return of the product to the customer shall be paid by SHARCNET-USA within the 48 contiguous states and the District of Columbia. Customer shall pay shipping costs, customs clearance, and other related charges outside this designated area.

The above warranties are in lieu of all other warranties, expressed or implied, oral or written, statutory or otherwise, including any implied warranty of merchantability or fitness for a particular purpose. No salesperson, representative or agent of SHARCNET-USA is authorized to make any guarantee, warranty, or representation in addition to the foregoing warranty.

SHARCNET-USA shall not, under any circumstances whatsoever, be liable to the owner or any other party for lost profits, diminution of good will or any other special or consequential damages whatsoever with respect to any claim hereunder. In addition, SHARCNET-USA's liability for warranty claims shall not, in any event, exceed the invoice price of the product claimed defective, nor shall SHARCNET-USA be liable for delays in replacement or repair of products. No waiver, alteration, addition, or modification of the foregoing warranties shall be valid unless made in writing by SHARCNET-USA.

Again, we thank you for considering SHARCNET-USA as your service resource.