Out-Of-Warranty Repair Service - Tenma / Duratool Soldering Iron Repair

Do you have one or more dead Tenma or Duratool temperature-controlled soldering irons? It sure seems like such a waste to just throw them away. Especially when the soldering tips are still in good shape. Well, you don't need to throw them away anymore. These irons can now be repaired.

When the iron dies, it is usally because the ceramic heating element has failed. There is also a temperature sensor inside of the ceramic element too but usually that is not the part that fails.

We can replace the integrated ceramic heating element and temperature sensor and bring new life back to your old, dead iron.

These are the same irons that we use for most of our GPS and cellphone repairs. We've restored all of our dead irons and brought them back into service. We can now do the same for you.

The replacement elements that we use are OEM replacements ordered in bulk from the factory.

Soldering Iron Specifications: 24V / 48W - 160 - 480ºC (320-896ºF), ±5ºC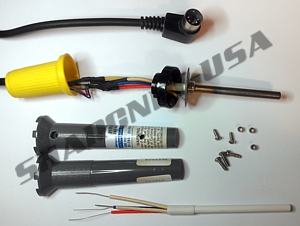 ---
Soldering Iron Models We Service:
Duratool Model 88-201A (4-PIN)




Tenma 21-7956 (4-PIN)




Duratool Model 88-201B (5 PIN DIN)




Tenma 21-7936 & 21-151 (5 PIN DIN)



---
Soldering Iron Heating Element Replacement
REPLACE-HEATER-ELEMENT - Replace Defective Heating Element in Iron (installed) - $9.50 USD + Shipping.



---
Shipping Charges:

Within the US:

Uninsured Option: Typical U.S.P.S. return shipping charges (within the U.S.): First Class Mail ($4.00 USD)

Our repair price with shipping is less than what you would pay to purchase a new iron and have it shipped to you by UPS from the distributor.

---
Payment Options:

We prefer payment via money order or cashier's check. This eliminates the delay in waiting for a personal check to clear the bank and it allows us to ship your cellphone or parts back to you quickly without delay. Please email us to obtain the "payable to" information. US Postal Service Money Orders and Canadian Postal Money Orders (in USD) and cash is also acceptable.