Admin
Username: Admin

Registered: 03-2006
Posted From: 50.205.112.210

| | |
| --- | --- |
| Posted on Monday, October 12, 2015 - 11:08 am: | |
---
On August 23, 2003, South Hills Amateur Radio Club sponsored a special events station to celebrate its 10th anniversary.

Operating under the call of "KS3R", the station was operated from 1300Z, August 23, 2003 to 2300Z, August 23, 2003 on the following frequencies:

21.375 MHz, 14.270 MHz, & 7.235 MHz

Certificates were printed on very fine 8-1/2" x 11" parchment paper, suitable for framing.

Each certificate was custom printed and personally signed by a club director. The text color was dark blue with a watermark of the club's logo in the background.

The certificates included the QSO Contact Number, Time (UTC), Frequency, Signal Report (RST) and Mode.

Each certificates also included an official club embossed gold foil seal.

The picture shown below really doesn't do justice to the actual certificate. They really looked sharp in a frame.

As a token of our appreciation, South Hills Amateur Radio Club sent every contact a SHARC club pen and a copy of our August issue of SHARC Mariner.

We want to thank all of our members who assisted in this event and the stations that worked us in helping us celebrate our club's 10th anniversary!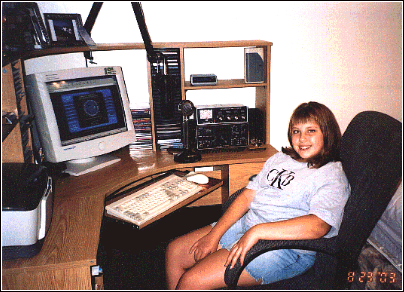 Sasha Mounts helping Dad (KA3EBX) get ready for the special event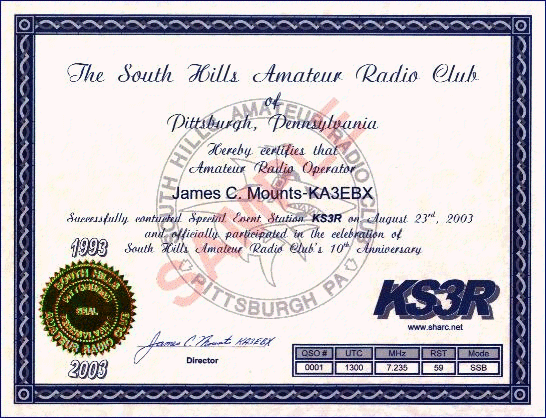 South Hills Amateur Radio Club's 10th Anniversary Special Event Certificate



SHARC club pen & SHARC Mariner newsletter given to all verified contacts



(Message edited by admin on October 12, 2015)