Sharcnetusa
Username: Sharcnetusa

Registered: 12-2008

| | |
| --- | --- |
| Posted on Wednesday, July 14, 2010 - 11:44 am: | |
---
Repair vs. Refurbished - Which Should You Prefer?





"The stories you are about to read are true. Only the names have been changed to protect the innocent"



Case #1: John was out fishing with his friends and accidentally dropped his GPS into the lake. He manages to find it and scoops it out of the water with his fishing net. Frantically he tries to turn it on but it doesn't work. - What should John do?


* * * * *


Case #2: Bill left his GPS on the dining room table. His 6 year old son, Tommy picked it up and took it outside to play with it. He set it down in the driveway to go ride his bike and forgot about it. The next morning, Bill backs out of the driveway and hears a crunch. - What should Bill do?



* * * * *


Case #3: Paul left his GPS on the end table next to his recliner and fell asleep. Ranger, his 5 year-old German Shepherd decided that it needed a new chew toy. - What should Paul do?



* * * * *


Case #4: David was driving from Chicago to Detroit on the Interstate. He hit a pothole and his GPS and mount fell from the window, bouncing off the dash and flew out the window. Through his rear view mirror he watches his GPS shatter into hundreds of pieces. He pulls off of the Interstate to retrieve his severely damaged travel mate. - What should David do?

Do these stories sound extreme to you? They are actual stories of real incidents that happened to people and who have contacted us for our help.

When your GPS develops a problem, you have the option to send it in for repair (non-factory repair) or send it in and have it replaced with a refurbished unit (factory repair).

What exactly is a refurbished unit?

A refurbished unit is a unit that may or may not have had a previous problem and was returned by another customer. Maybe the customer changed their mind and didn't want the unit or it developed a problem and they returned it under warranty.

Under ideal conditions, the refurbished unit should be just as good as a new unit. But is it really?

We've had the opportunity to work on literally hundreds of GPS's. The majority of units we've worked on had never been opened before. We've also worked on many factory refurbished units.

Did we find differences between the two?

In some cases, yes and we were rather shocked on what we found.

Case #5: Jeff sent his refurbished Nuvi 660 to us to replace his non-responsive touchscreen. Upon opening the unit, we discovered a badly burned resistor. It had gotten so hot that it had melted through the white plastic adhesive insulator that was applied over the board. The unit worked fine but the resistor was burned. Many resistors will change value when burned. So, in addition to replacing Jeff's defective touchscreen, we also replaced the burned resistor and gave the unit a VERY thorough look over. We suspect that Jeff's unit was originally repaired for another problem and the burned resistor was ignored, since the unit basically worked.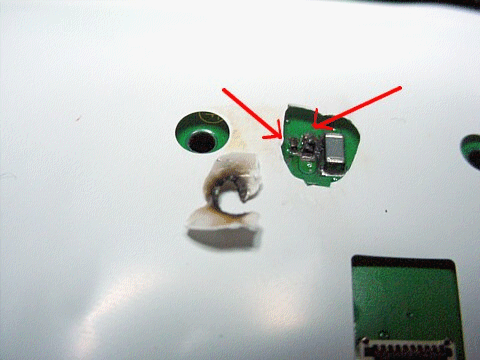 Arrows point to burned components.





* * * * *


Case #6: Bryan sent his refurbished Nuvi 660 to us for a touchscreen replacement as well. After opening the unit, we noticed right away that the speaker had been replaced and the replacement speaker had been tac-glued with a glue gun. New units have speakers that are attached to the case with a double-sided adhesive foam O-ring. The O-ring helps dampen any vibrations between the case and speaker that could create an undesirable buzz.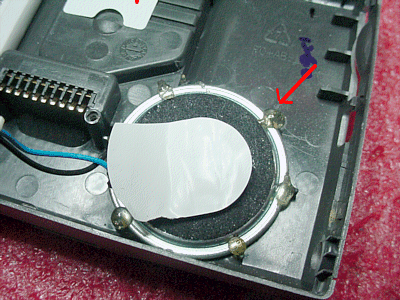 Arrow points to an area where a replacement speaker has been tac-glued into place.





* * * * *


Case #7: Ray sent his Refurbished Nuvi 660 to us to fix a couple issues. The sound went out on his unit and the battery would no longer hold a charge. After opening Ray's unit, we discovered that an electrolytic had exploded and it blew residue over the board. We also discovered that there were several burned components on the board near the damaged capacitor.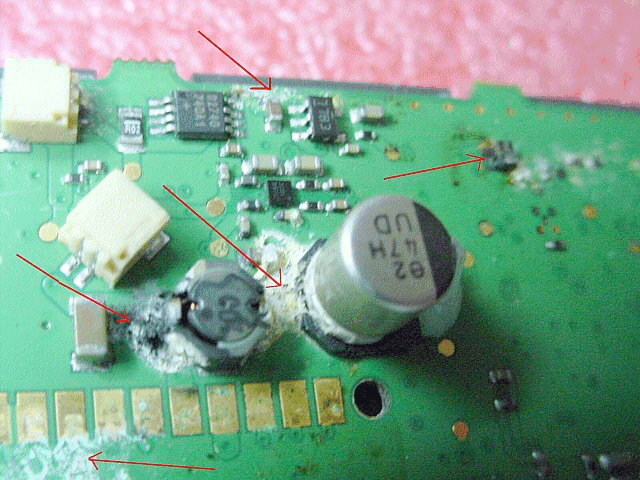 Arrows point to burned/blackened components with yellowish/white residue from exploded capacitor.



Despite no audio and its inability to retain a charge, Ray's unit worked fine. I suspect that the previous owner of Ray's unit had plugged a DC charger into the headphone jack, which is what caused the component damage and probably wounded his speaker. Eventually, the speaker died later while in Ray's possession. Ray assured us he didn't cause the damage himself.

Under these conditions, it's often difficult to offer a warranty. It's hard to say what other parts may have been wounded and may prematurely fail.

Batteries

We're not convinced that all refurbished units have fresh new batteries installed. On older units, the batteries used to have a date code. The newer units do not or the date code is encrypted. So, if your unit had a good battery when you sent it in for repair, the refurbished unit may or may not have a new battery. If the battery isn't new, you could get a unit with a battery that may not last as long as your original one.

Beware of Retail Bait & Switch Tactics

If you find a retail store offering a GPS at a pretty decent discount, make sure that you are getting a *NEW* unit and not a *REFURBISHED* unit. Many retail stores are selling refurbished units at low prices, however not clearly advertising them as refurbished units.

How can you tell? --- Well, a new unit will be in an attractive box with pictures/graphics as shown below.

A refurbished unit will be in a white and blue box as shown below. There are also differences in the serial number strings (refurbished units receive a new and unique serial number) but most consumers would not know the difference. We doubt if most retail associates would know the difference between a new unit and a refurbished one.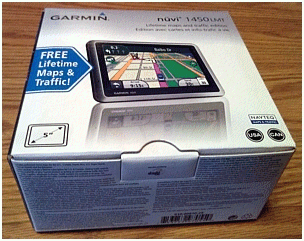 Factory New Unit in Retail Box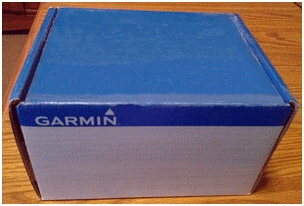 Refurbished Unit in White/Blue Box



Lifetime Traffic & Map Subscriptions

Please note that when you purchase a new or refurbished unit or send your unit into the factory for repair, that your existing lifetime traffic & map subscription on the broken unit is NOT transferable to the new unit. You will need to make sure that the new unit also offers a lifetime traffic & map subscription, otherwise you will have to purchase one again.

The advantage of having your original unit repaired means all of your lifetime subscriptions will remain intact and valid.

Recommendations

So our advice is this; If your GPS is completely destroyed, unrepairable or the cost of the repair exceeds the value of the GPS, then by all means, go for the refurbished unit or buy a new one.

If your GPS only has a minor problem, such as a bad LCD, touchscreen, speaker or battery, it's probably better to find a reputable repair shop that will repair your own unit and return it to you.

When it comes to refurbished units you really don't know the unit's history and what's going on inside. From what we have seen, do you really want someone else's problems?

Read more about refurbished units here: Refurbished Nightmares

SHARCNET-USA





(Message edited by admin on March 13, 2014)