Manufacturer Issues Battery Recall on GPS Products For more information, click [HERE].
Note: We do not use the same battery supplier that the factory uses, so this recall does not apply to us or the products we use.

Most GPS units contains an non-user replaceable, internal rechargeable, Lithium-Ion battery. The battery can be charged (3) ways:


AC Wall Charger

DC Car Charger

USB Cable to PC (not recommended due to current limitations of various USB ports

The life expectancy of the battery depends upon a couple factors:


Proper charging voltage

Number of charging cycles

When the battery is beginning to fail, you will notice that a full charge will not last as long as it used to. When the battery has completely failed, you will only be able to operate your GPS using the AC wall charger or DC car charger. As soon as you disconnect your GPS from a power source, it will go completely dead.

Typical life expectancy of the battery is 2 years (depends on above factors). We recommend having your battery replaced if your battery is older than 2 years.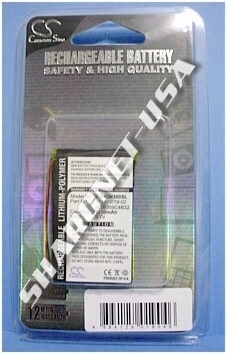 Figure #1: Internal View
GPS Replacement Lithium-Ion Battery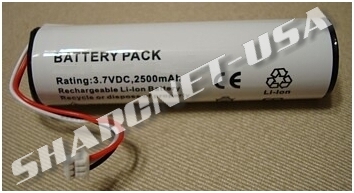 Figure #2: Internal View
GPS Replacement Lithium-Ion Battery



Don't always assume that just because it appears that your Nuvi battery isn't charging that the battery is always the culprit. You may have a loose or broken mini-USB port, which could be the cause of why your Nuvi's battery will not charge.

Moisture can cause problems with Lithium-Ion batteries. The GPS battery is enclosed in a flexible, sealed foil pouch. When the internal lithium salts used in the electrolyte are exposed to moisture, they will generate hydrogen flouride, causing the battery to be bloated by the gas that forms. Eventually, the battery may rupture or the case of the GPS may be forced apart. As you can see in the picture below, the battery can actually lift up the printed circuit board, which sits over the battery and prevent the rear cradle connections from touching the board. We have observed bloated batteries in GPS units that we have taken apart for other problems. When we see this happen, we always contact the customer and recommend that the battery be replaced.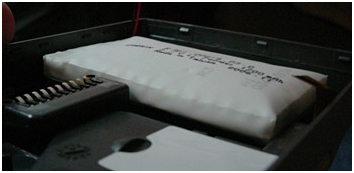 Figure #3: An Example of a Gas-Bloated Battery
Battery Should be Flat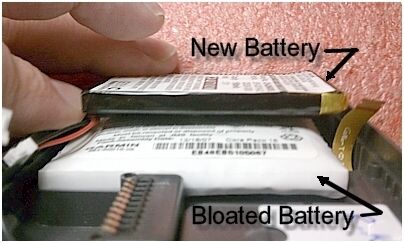 Figure #4: An Example of a Gas-Bloated Battery
Battery Should be Flat (added 2/7/11)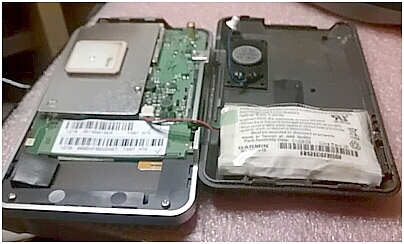 Figure #4A: An Example of a Gas-Bloated Battery
Battery Should be Flat (added 11/16/11)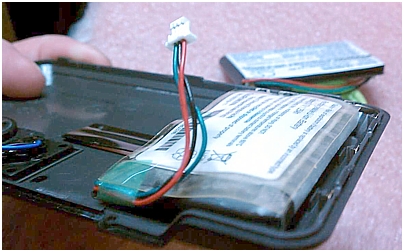 Figure #4B: An Example of a Gas-Bloated Battery
Battery Should be Flat (added 4/15/12)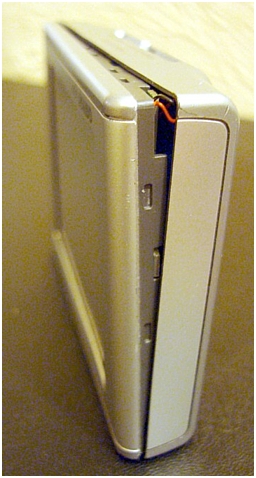 Figure #5: Bloated Battery Breaks Case Apart



Battery Reference Information:

Float Voltage – Float voltage is the battery voltage with zero current draw (with battery disconnected).
Nominal Voltage – Nominal Voltage is the typical operating battery voltage range, like 3.7V, 12V.
Charge Voltage - The voltage applied to a battery while charging. This voltage will always be higher than the nominal voltage.
Discharge Voltage - The voltage of a battery while discharging. This voltage is determined by the charge state and the current flowing from the battery.

Battery Capacity (mAh rating) - mAh, is an abbreviation for milliamp hours. Milliamp hours is a technical rating that defines the battery's total capacity. The higher the mAh rating, the longer a battery can last between charges.

Notice to customers about purchasing USED battery and USED speaker parts : Batteries wear out over time with use. This is normal. No battery lasts forever. There is also a history of speaker failures in GPS products. Beware of USED battery and USED speaker parts. It is practically impossible to determine the amount of life left in a USED GPS battery and whether or not the speaker is in good operating condition. We have observed used leaky batteries, speakers with intermittent voice coils (sometimes working one moment and then not working the next moment), speakers damaged by liquid spills and/or coated by dust & debris particles that have entered through the rear speaker grille holes. SHARCNET-USA only uses NEW batteries and NEW speakers for all of our repairs. We also provide a full 90-day warranty on all of our battery and speaker products. Always make sure that your batteries and speakers are NEW and that they are backed by a full warranty. You might be offered a slightly cheaper quote from someone else but you need to ask if their parts are NEW and if they offer a warranty. Why take chances? SHARCNET-USA has a solid reputation for providing fast & reliable service with honesty.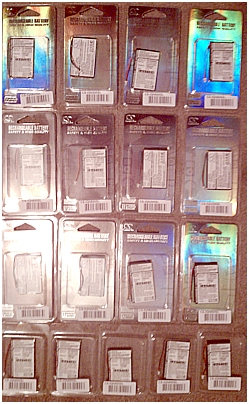 Figure #6: We Carry Many GPS Batteries Types in Stock



We carry NEW replacement batteries for several GPS models. We also carry high capacity batteries that will allow your GPS to last longer on battery power between charges. For a price list, click [HERE]. The internal battery is considered not to be user serviceable. Please don't attempt to make this type of repair unless you have the right tools and skills. You take the risk of further damaging your GPS.

What we do when we replace your original GPS battery:


We replace your battery with a pre-tested, after-market battery, that is meets or exceeds the rating of the factory OEM battery.

We return your original battery to you along with your repaired GPS.

We label the battery replacement date on your original battery and on the replacement battery.




Figure #7: GPS 2 & 3 Wire Battery Testers



We took (2) dead GPS printed circuit boards and attached a white LED to each so that we can quickly pre-test all of our stocked batteries ahead of time. There is nothing worse than installing a new battery, putting the unit back together again and then finding out that the battery is dead. The printed circuit board LED gives a quick indication of power, provides a connector interface for the battery to be tested and also provides test points to test battery voltage.

One of the worst things that you can do with a lithium-ion battery is to just let it sit on a shelf and be allowed to discharge. In most of these types of batteries, there is a circuit that essentially disconnects the load from the battery to prevent the battery from fully discharging and becoming damaged.

When we receive our batteries from our distributor, we immediately pre-charge our batteries using multiple USB battery chargers (as shown below). The chargers not only charge the battery but when left connected, they can trickle charge the battery to keep it fully charged. This can reduce several hours of charging time and allow us to ship units out more quickly by not having to charge the battery after it has been installed within a GPS.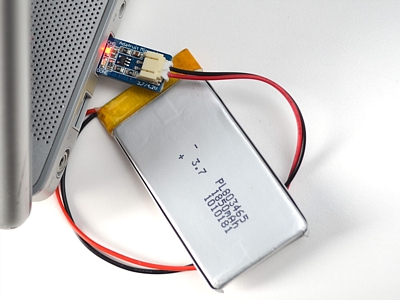 Figure #8: USB Battery Charger (charging, RED LED)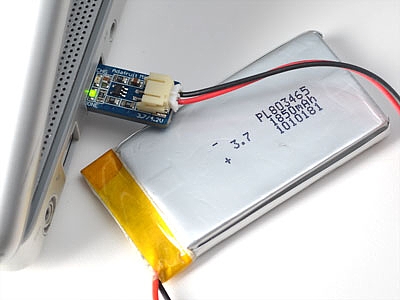 Figure #9: USB Battery Charger (charged, GREEN LED)



WARNING!!! Taking your GPS apart requires the right tools. There are internal flex ribbon cables for the antenna, touch screen and LCD screen. These cables are very delicate and can be torn easily if you're not careful. The antenna flex ribbon cable runs through the swivel antenna shaft and is very delicate. In addition, these devices contain components that are sensitive to static discharges and can be damaged without using the proper grounding techniques. Please do not attempt to make this repair yourself unless your are qualified to do so. We have received numerous emails from people who have gouged and cracked their GPS's case and permanently damaged their GPS's LCD screen and antenna! Save yourself the aggravation and possible damage to your GPS by allowing us to repair your GPS for you.

Please feel free to fill out a Repair Request/Quote Form, which is located at the bottom of the left-hand menu. We'll be more than happy to discuss your GPS problem with you and attempt to offer a possible solution to have the problem resolved.