Our Own Story:

For those of you that own a 2xx, 2xxW, 7xx or 8xx GPS with an on/off power switch that no longer functions....don't worry you're not alone. Two days after we purchased our GPS, our on/off power switch broke too. The problem we faced, was that we bought it from a so-called "Authorized Dealer" on eBay. It turns out that the manufacturer had never heard of the dealer and therefore refused to register our GPS and honor the warranty. The manufacturer states on their website that they will not honor the warranty if your GPS was purchased on eBay. They also state that they have no "Authorized Dealers" on eBay. When we tried to register the unit with the manufacturer, they told us that it was already registered to someone else. They did however offer to replace our GPS with a refurbished unit for a flat fee of $175.00. So, what do you do in this type of situation? We did some research on the web and discovered that the on/off switch failure issue is is a common problem with this type of GPS.

Here's Why It Happens:

The on/off power switch is a surface mount switch that is mounted flat against the main PC board. The switch has a very small plastic actuator that can be moved left or right by the sliding actuator that sits above it. The sliding actuator has grooves on each side that allow it to ride on the inside edge of the case where the switch protrudes through. Excessive pressure to the far-left or far-right can shear off the plastic actuator. Sometimes the actuator is sheared off if the unit is dropped (inspect for case cracks too). In most cases, this happens when the switch is moved to the right into the "LOCK" position. When the switch actuator is sheared off, the unit may be stuck in the "LOCK" position, preventing the unit from going to another screen when pressing the touchscreen.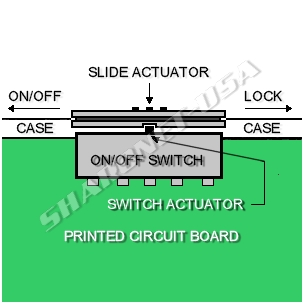 Figure #1: Slide Switch Diagram




Could This Be Problem With Your GPS?

To determine if your GPS's on/off power switch is broken with no other issues, please confirm the following:


Sliding the on/off power switch on your GPS has no effect and the switch feels loose when moved in either diection.


Your GPS powers up when using the AC, adapter, car adapter or USB adapter.


Your GPS may be stuck in the "LOCKED" screen position.


Your GPS can not be turned off by sliding the power button to the left.

If all of the above conditions appear to be the symptoms of your GPS, then most likely, the on/off power switch actuator has been sheared off.

Important! - If your GPS will not power on at all using the AC wall charger, DC car charger or USB cable connected to a PC, then the power switch is NOT the problem. When a GPS is completely dead, this is a sign that a component on the board has failed. Click [HERE] to obtain more information about a dead GPS.

Can Your GPS Be Fixed?

"Yes!.... We can easily replace the power switch.

Can You Fix It Yourself?

Taking your GPS apart requires the right tools and you need to possess soldering skills using a soldering iron designed for surface mount components. There are internal flex cables for the touchscreen, LCD screen and backlight. These cables are very delicate and can be torn easily if you're not careful. In addition, these devices contain components that are sensitive to static discharges and can be damaged without using the proper grounding techniques. WARNING!!! Please do NOT attempt to make this repair yourself unless your are qualified to do so. We have received numerous emails from people who have gouged and cracked their GPS's case and permanently damaged their GPS's LCD screen! Save yourself the aggravation and possible damage to your GPS by allowing us fix this problem for you. Please do not ask us for information on how to perform this procedure yourself. It requires the right tools and soldering skills. Save yourself the aggravation and the possibility of further damaging your GPS, by allowing us to resolve this issue for you.

What Makes Our Solution Unique?

Our repair approach is unique because in addition to restoring the functionality of your GPS's on/off power switch, you are getting back your own GPS, not another refurbished unit. All of your prior settings, "favorites", MP3 & picture files will be left intact. You will not lose any of your settings or files.

What Is Our Procedure To Repair Your GPS?


We dissassemble your GPS using the proper tools & grounding techniques.

We remove the defective power switch from the main printed circuit board (PCB).

We install a new power switch to the printed circuit board.

We reassemble your unit and verify that the switch functions correctly and that the basic functions of the GPS are operating correctly.

We clean your GPS's case and screen and recharge your battery prior to shipment.

What Are The Basic Functions That We Test On Your GPS?


On / Off Power Switch Operation

LCD Display / Touch Screen Operation

Sound Operations (Speech / MP3 / Touchscreen / Headphone Jack)

Satellite Lock with Internal Antenna and External Antenna Port using an External Antenna w/Pre-amp

Computer USB Port Operation

Car Charger Port (Cradle) Operation

Bluetooth Operation (If equipped)

What Experience Do We Have To Fix Your GPS

Please click [HERE] to learn more about our Electronics background.

Is The Manufacturer Aware Of This Problem?

Yes they are. However they haven't resolved the problem by selecting a vendor who manufactures a higher quality power switch.

Is My Repair Covered By The Manufacturer's Warranty?

No it isn't. If your GPS is still under the warranty, we strongly suggest that you send it back to the manufacturer for repair or replacement. Taking apart your GPS before the warranty period has expired, violates your manufacturer's warranty. However if your warranty has expired, there is no problem in sending your GPS to someone else to have it serviced. For example, If you own a Chevrolet vehicle, no one says you have to take it back to Chevrolet or General Motors for non-warranty work. The same philosophy applies here. We do not work for any GPS manufacturer and this site is not affiliated with any GPS manufacturer in any way, whatsoever.

Do You Offer A Warranty On This Repair?

Yes, we provide a full 90-day warranty on this type of repair.

Will My Switch Feel Any Different After Your Repair?

Your GPS's On/Off switch will feel like it did and have the same action as before it broke.

How Much Do We Charge To Fix Your GPS?

The cost for this service is $30.00 USD (repair fee) + return shipping costs. Please click [HERE] for more information.

What About Shipping?

Please click [HERE] to learn more information about shipping.

How Long Will It Take To Fix Your GPS?

Most repairs are completed within a week (depending upon repair backlog). There are instances where it may take longer, if your GPS has multiple problems, like a defective on/off switch & broken screen or dead battery or bad speaker.

Good Communication Goes A Long, Long Way

We like to keep good communication going throughout the entire process. You won't be dealing with third parties like sales reps, managers or receptionists. We will be the one repairing your GPS and you'll have the opportunity to have a personal one-on-one conversation with us as we go through the process of determining the problem with your GPS and how to go about getting it repaired.


We will send you an email to acknowledge that we have received your GPS.

We will send you an email to confirm what the problem is with your GPS.

We will send you an email to confirm return shipment along with a USPS/UPS/Fed-EX tracking number. If insured via the USPS, we will include the insurance tracking number.

About a week after you receive your repaired unit, we will follow-up with an email on the repair work.

What Other GPS Repairs Do We Offer?

Please click [HERE] to see a full list of other services we provide.

If you have multiple problems with your GPS, let us know. Once we have your unit opened, we can most likely offer a discount on multiple repairs.

Do We Have Any References?

You bet we do! :) Please click [HERE] to view feedback from some of our customers, from all around the world.

Please feel free to fill out a Repair Request/Quote Form, which is located at the bottom of the left-hand menu. We'll be more than happy to discuss your GPS problem with you and attempt to offer a possible solution to have the problem resolved.