The repeater's transmitter is capable of producing 110W of power into a 15' Hustler G7-144 7dB gain coaxial colinear antenna, located at the top of a 60' guyed tower.

The repeater controller (nicknamed "Cylon"), provides numerous features such as autopatch, courtesy tone, tail, timeout, and remote control capabilities and was designed and built by Jim - KA3EBX. It's located below the repeater's transmitter and receiver. A Commodore 64 computer (not shown) is used to provide DTMF decoding, member speed dialing, command output control, voice synthesizer and DTMF dialing.

The repeater is maintained and operated by Jim - KA3EBX, and serves the Greater Pittsburgh Area. Special thanks goes out to Ken Pollock - WB3JOB, who has provided a safe and comfortable home for the repeater for the past 19 years.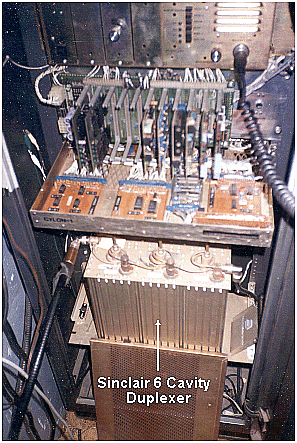 Lower view: SHARC-1 Repeater
w/ Cylon-1B Controller and duplexer