Click on the update icon for the current status of this repeater.


The new SHARC-1 Repeater (145.130 MHz) project began in March of 2005. A 7' high Hoffman aluminum telecom rack (standard 19" mounting) was purchased to house all of the repeater components. Various black powdered coated steel panels were puchased to fill in the unused rack space.

The repeater's new power supply consists of rack mount C&D +12VDC/35 Ampere ferroresonant rectifer supply, donated by Ken Pollock, WB3JOB. The supply provides over/under voltage protection with breakers in the AC and DC lines.

The supply also charges two (2) +12VDC 100 Amp/Hour lead calcium batteries, connected in parallel and mounted below the rectifier supply in the bottom of the telecom rack. The batteries were also donated by Ken Pollock, WB3JOB. The purpose of the batteries are to keep the repeater on the air during brief power failures.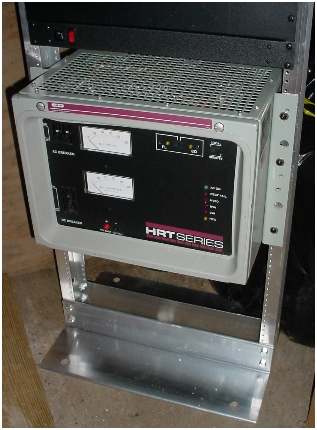 SHARC-1 Power Supply
C&D HRT Series