Click on the update icon for the current status of this repeater.





Notice: The original SHARC-1 Repeater has been replaced with a new repeater purchased by the club. We are waiting for better weather conditions to install the new antenna on the tower for the repeater. The original antenna installed in 1986 has developed problems. In the interim, we are running the repeater on a ground level antenna and at a lower power to minimize RF densense back into the repeater's receiver. Pictures of the new SHARC-1 Repeater may be viewed here:


NEW SHARC-1 REPEATER

The SHARC-1 Repeater (145.130 MHz) was originally put into operation in 1979 by Jim - KA3EBX, and Jeff - KB3W (at left) on the frequency of 147.120 MHz. We chose this frequency for testing purposes only, while we searched for a more suitable frequency. The original repeater call sign was KA3EBX/R


The repeater consisted of a GE Progress Line, 50W transmitter/receiver (all tube type), with a very basic home-brew controller that only provided tail/timeout and courtesy tone features. The repeater was housed in a 4' communications rack, originally turquoise in color, but I later painted it black and gray (shown below). A TRS-80 was used to provide random CW identification. The repeater was operated with split receive and transmit antennas that were horizontally isolated.

The repeater was eventually coordinated on the frequency of 145.390 MHz, and in 1983, a Sinclair Radio Laboratories duplexer was purchased, eliminating the need for split antennas. The basic controller was revised and redesigned with plug in cards that expanded the repeater's capabilities. A new antenna was purchased for the system, which consisted of an AEA Isopole, and later 50 feet of 1/2" hardline was purchased to replaced the original RG-8 coax.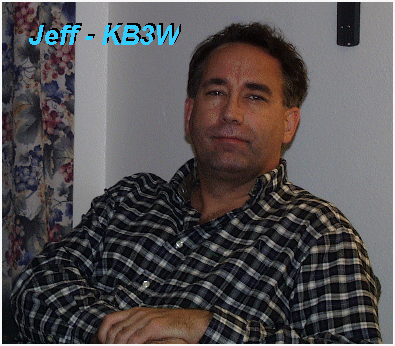 Jeffrey Fall - KB3W