South Hills ARC Acquires "Original" W3WN QSL Card
From Field Day Operations at Salamander Tower Held in 1949



South Hills Amateur Radio Club has acquired a QSL card from the "original" W3WN, Edward J. Daughtery of Frederick, Maryland. For historical purposes, we present the following information regarding the QSL card.

On Sunday, June 19th, 1949, seven members of the Frederick Amateur Radio Club [frederickarc.org ] (Est. 1933), set up a station at Salamander, the mountain north of Frederick, where they participated in a nation-wide demonstration of a vast volunteer radio network which stood ready for emergency communications.

The seven club members participating in the event were:


William T. Delawter W3AKX, Mount Pleasant, MD
John E. Patton W3FRV, Frederick, MD
C.E. O'Brien W3PKF, Frederick, MD
Edward J. Daugherty W3WN, Frederick, MD
Alvin S. Klein W3BJV, Fredrick, MD
Claude E. Feigley W3ATQ, Frederick
Isaac L. Hankey W3KUM, Frederick, MD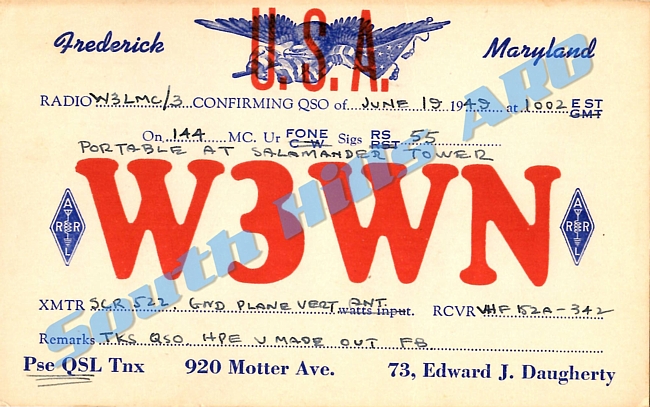 Front View - W3WN QSL Card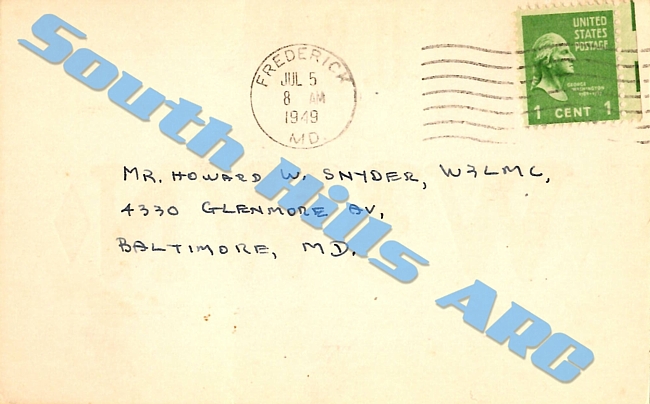 Back View - W3WN QSL Card



Edward Daugherty, W3WN, made the above contact with Howard W. Snyder, W3LMC (Silent Key: 1/30/99) of Baltimore, Maryland on 144.000 Megahertz, using an SCR-522 18-tube tranceiver. "SCR&quot stands for &quotSignal Corps Radio". The SCR-522 transmits between 100 and 150 MHz, with an output power level of 6 watts. The SCR-522 is powered by 28VDC and draws 11.1 Amps.

Originally, the SCR-522 was intended for use in aircraft and provided two-way radio-telephone communication between aircraft in flight and between aircraft and ground stations. The tranceiver is crystal-controlled with (4) possible channels.

Edward used a 152A-342 receiver and a ground plane vertical antenna.

Additional information about Howard W. Snyder, W3LMC:
(Courtesy of the Baltimore Sun, January 30, 1999, by Sun Staff Reporter, Frederick N. Rasmussen)

Howard W. Snyder, a retired electronics technician and amateur radio operator whose interests ranged from restoring vintage Ford automobiles to helping mechanically inept friends with their projects, died Wednesday of congestive heart failure at St. Joseph Medical Center. The Hampton resident was 82. A ham radio operator since 1932 whose call letters were W3LMC -- "W3 London Mary Charlie" -- Mr. Snyder was speaking on Dec. 7, 1941, with a fellow ham in Honolulu who suddenly said, "Something big is going on here. I'll call you next Sunday." That was the day the Japanese attacked Pearl Harbor. "He also talked to Adm. Richard Byrd on one of his South Pole expeditions and even King Hussein [of Jordan], who is a ham [operator]," said his daughter, Elizabeth Anne Reilly, with whom he lived. "He said that Hussein was one heck of a guy."

More to come. Please come back again.